Home
Details

Category: News
Due to the continuing spread of the Coronavirus Fife Darts Association have regretfully postponed the 2020 Fife Open May on 2nd-3rd. The event has been rescheduled until May 2021. Fife Darts Association would like to apologise for any inconvenience that this may have caused     
Details

Category: News
The 41st British International Darts Championships 2020, between England, Scotland and Wales will take place at the Golden Palm Resort, Chapel St Leonards, Skegness on the 3rd - 5th April.
England, the host nation, are defending three titles, Mens, Ladies and Boys whilst Scotland are the holders of the Girls title and indeed England are the dominating force in these championships since they were first held in 1979.
Scotland's successes at full International level have been scarce with two men's championships in 2000 and 2008 and two women's championships in 1981 and 1998 plus a share of the title in 1986 with Wales.
Scotland will be represented in the Ladies Championship by Susanna McGimpsey (Capt), Emily Davidson, Lorraine Hyde, Louise Hepburn, Chelsea McMahon, Steph Gilmour and Lynsey McDonald
The Mens pool is Alan Soutar  (Capt), James Duncan, Ross Montgomery, Mathew Goldie, Scott Robertson, Colin Miller, Euan Callander, Craig Owens, Alan Small, Alec Jeffery, Jim McEwan, Bruce Montgomery and Cameron Menzies.
The youth team comprises Boys - Nathan Girvan, Dean Fitch, Josef Honeyman and Kyle Walker and representing Scotland in the Girls championship are Chloe O'Brien and Sophie McKinlay.
The order of play for Scotland's matches are below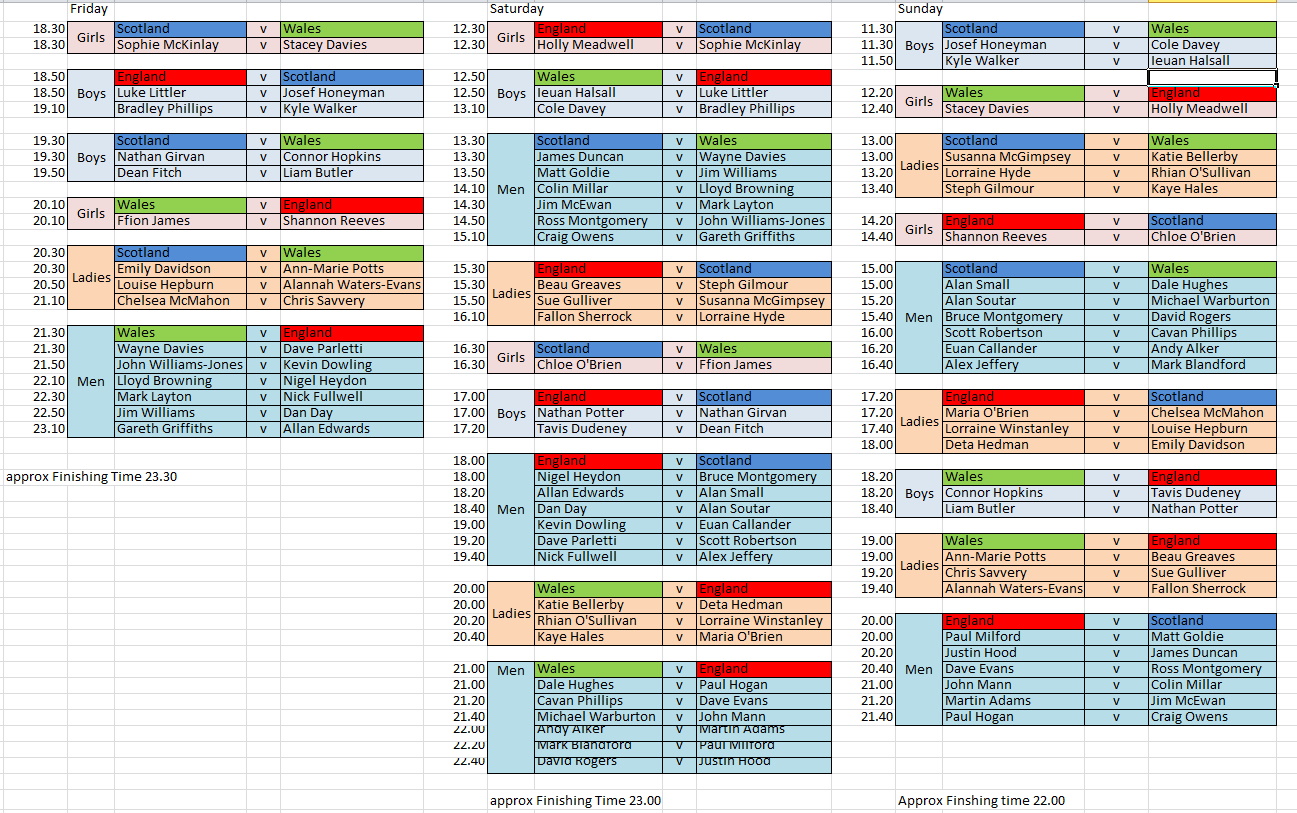 Details

Category: News
The Scottish International appearances lists have been updated to reflect those who played for Scotland in the Celtic Cup. You can view the updated list by using the link below.
Details

Category: News
The fourth Celtic Challenge returned to where it all began three years ago, as the CISWO Club, Glenrothes hosted the latest outing of this event as Scotland, Northern Ireland and Wales gathered to play in this tri-nation spectacle.