Details

Category: Youth
British International Youth Challenge Match 2021
The Scotland Youth Team to take part in an International Challenge Match with England Youth & Welsh Youth on 20th/21st March
Good luck Chloe, Sophie, Dean, Josef, Josh & Kyle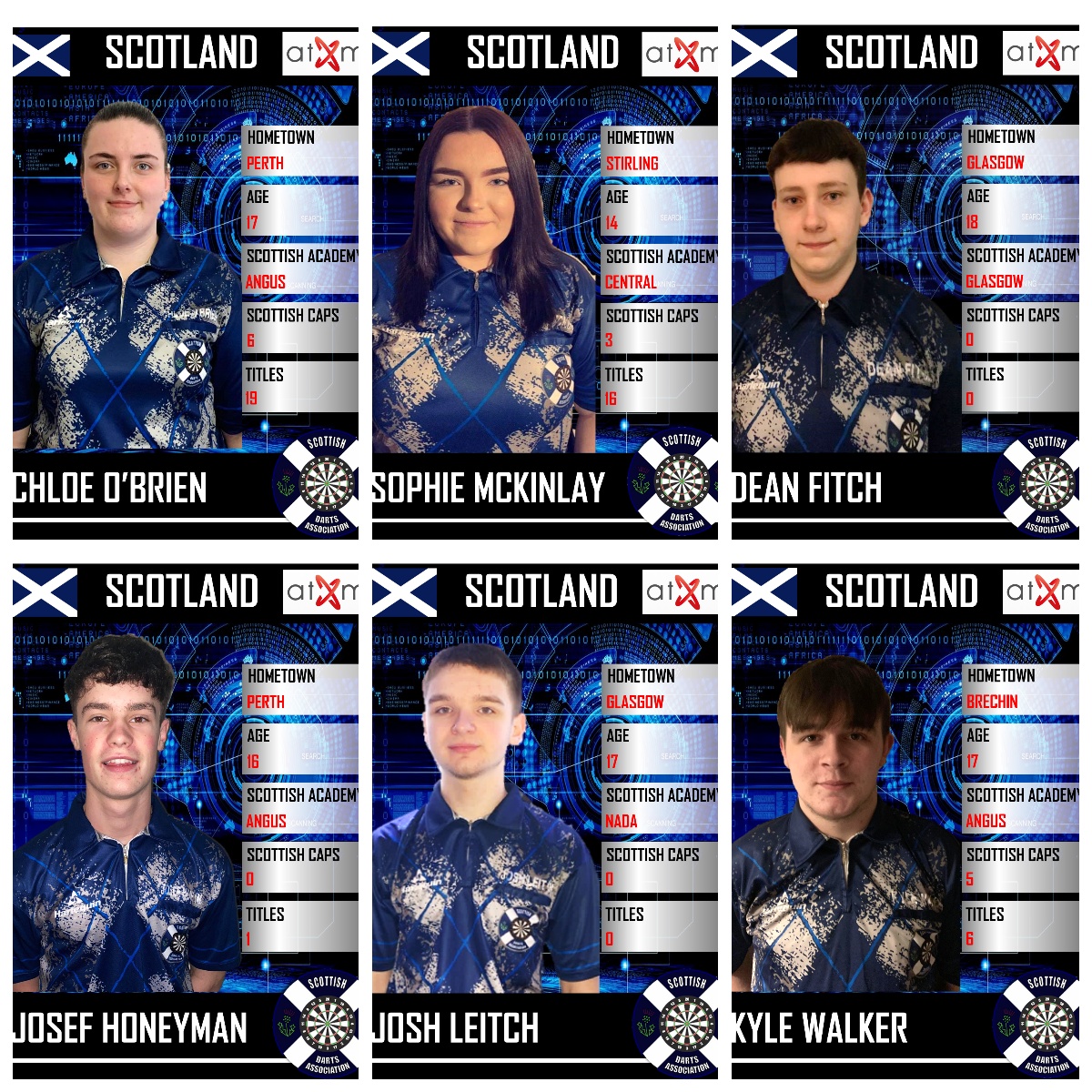 more information on Facebook https://www.facebook.com/SDAYouthDarts 
Winmau Scottish Youth Masters 2020

Scottish Youth Darts played their 2nd event of the GrandPrix tour on 14th March.  During the week we had many conversations on whether the event should take place at all.

It was decided to go ahead with some precautions in place - no handshaking before or after matches, Disinfectant wipes for the tablets were also available.

The games did not disappoint

Well done to the everyone - it was a great day with many amazing matches.

Boys
Winner - Nathan Girvan (Angus)
Runner Up - Sam Imrie (Central)
Semi Finalists - Robbie Mullen (NADA), Kyle Walker (Angus)

Girls
Winner - Chloe O'Brien (Angus)
Runner Up - Ellie Wilson (NADA)
Semi Finalists - Emma Morrison & Sarah Jeffrey (NADA)

Future Stars
Winner - Flynn Tracey (Angus)
Runner Up - Bailey Gray (Angus)
Semi Finalists - Evan Williamson (NADA), Baxter MacIntosh (Highlands)

Links to the draw can be found here

With the Corona Virus we are not sure when the next event will be held - stay safe everyone and we will be back as soon as we are allowed. 

 

Scottish Youth Membership Draw

Being part of Scottish Youth Darts then all Members are put into a draw 4 times a year to win some Darts equipment.  Thanks to Winmau for helping out with the prizes.


The 1st draw took place on 1st March

Winner of the Winmau Blade 5 dart board was Sam MacLelland (Highlands)
Winner of the Winmau Urban Dart Case was Ellie Wilson (NADA)

Next draw will be done on or around 1st June

 

 

Central Youth Open

Scottish Youth Darts started their Winmau GrandPrix Youth Tour today and it was a great day. Players traveled to Cowie from all over Scotland (including Connor from Isle of Harris) to play in the Central Youth Open. There were 36 boys and 13 girls taking part in the Open events with 33 players taking part in the Future Stars events. We had 14 darters, 100+ checkouts through the games and it was great to see the friendship that exists between the players from all over.
Future Stars Results
Winner - Nathan Watson (Angus)
R/Up - Kaden Mitchell (Angus)
Semi Finalists - Sam Imrie (Central & Jack Macrae (Fife)
Girls Results
Winner - Sophie McKinlay (Central)
R/Up - Tamzin Cairns (NADA)
Semi Finalists - Holly Frew & Sarah Jeffrey (NADA)
Boys Results
Winner - Nathan Girvan (Angus)
R/Up - Samuel Vargovsky (Central)
Semi Finalists - Sam Imrie (Central) & Kyle Walker (Angus)
Points have been updated and you can find the Boys, Girls and the new Points system for the Future Stars. 

These can be found in the Youth Menu above and Winmau SDA Youth Tour

Well done again everyone and thanks again to our sponsors of the event.

 

 

Winmau Scottish Youth Matchplay

Winmau Scottish Youth Matchplay did not disappoint today. This is a great Tournament which sees the Boys top 16 placed players and the Girls top 4 placed players being invited to take part int he Winmau Scottish Youth Matchplay.
We play a Round Robin where the boys play all 6 legs and girls play all 4 legs.
Top 2 from each group progress into the knockout stages.
Well done to everyone today - the respect and support you all give to each and every player is a credit to you all.
Thanks to JW Entertainments James Ward & Winmau Darts for their continues support for this event.
Also Thanks to David Macher and his help with the DartConnect setup - full detail of all games can be found https://tv.dartconnect.com/eventmenu/scottyouth2020e1
Performance tab will give you details of matches for each player.
Boys Results
Winner - Nathan Girvan
R/Up - Kyle Walker
Semi Finalists - Josef Honeyman & Connor Mitchell
Girls Results
Winner - Chloe O'Brien
R/Up - Sophie McKinlay

 

 

Winmau Scottish Youth GrandPrix Tour Membership

This membership will ensure that Scottish Darts (Youth) will keep moving forward to give Youth's the opportunity to build their skills in competition play. Membership is needed to ensure we have the necessary details of an individual youth player to be included in the youth ranking tables and all important communications regarding youth tournaments and points allocation.
This membership will run from 1st January 2020 to 31st December 2020 and must be renewed each year

Academies will be registered as members and then all players that go to that Academy will be required to register as a Member of SDA Youth to play in the Winmau Scottish Youth Grandprix Tour. The cost of this membership is £5.

If the player is not in a registered SDA Academy then each player attending the Winmau Scottish Youth Grandprix Tour will pay £25 to register.

You do not have to be based in Scotland to become a member and enter our 14 Events throughout the year.  Only Youth players with an SDA Youth Membership will be considered for selection to play for Scotland but will have to meet eligibility criteria in order to be selected for the International Team..

Each member will be put into a draw 4 times a year and 1 person will win a Blade 5 dart board.

In addition to the Top 16 Invitational then for 2020 we will also be creating a Future Stars GrandPrix table and the top 4 eligible players will qualify to play at the Invitational.

Each event will now cost £6 entry fee – this will include a £1 SDA levy.

Download Membership Form Here

Dates are shown on the Youth Diary http://sdadarts.com/Youth/Youthdiary.html - looking forward to seeing you all again in 2020.

Any questions or any disabilities or conditions that require special needs or medication please email separately to Sharon Macfarlane (Youth Director) This email address is being protected from spambots. You need JavaScript enabled to view it.

 

 

 

SCOTLAND YOUTH TEAM 2020

The Scotland Youth Team for 2020 has been selected after what I believe to be the hardest selection yet. For the players that haven't been selected or re-selected for this year then please stick in again and hopefully it could be your name that I am typing this time next year.
Well done to the following Players. Let the hard work begin, this is only the start of the journey.
Chloe O'Brien - Angus Academy
Sophie McKinlay - Glasgow Academy
Dean Fitch Jr. - Glasgow Academy (New Cap)
Josef Honeyman - Perthshire (New Cap)
Kyle Walker - Angus Academy
Nathan Girvan - Angus Academy

 

WINMAU SCOTTISH YOUTH MATCHPLAY QUALIFIERS

 

 NAME

County

1

NATHAN

GIRVAN

Angus

2

KYLE

WALKER

Angus

3

JOSEF

HONEYMAN

Perthshire

4

JOSH

LEITCH

Glasgow

5

DEAN

FITCH

Glasgow

6

CONNOR

MITCHELL

Angus

7

SCOTT

SMITH

Angus

8

SAMUEL

VARGOVSKY

Central

9

AARON

MITCHELL

Angus

10

ROBBIE

MULLEN

Ayrshire

11

EVAN

WILLIAMSON

Ayrshire

12

MARTIN

LYNCH

Angus

13

LEWIS

SMITH

Angus

14

JACK

KENNEDY

Glasgow

16

NATHAN

WATSON

Angus

=16

FLYNN

TRACEY

Angus

=16

DECLAN

MILLER

Fife

| | | | |
| --- | --- | --- | --- |
| 1 | SOPHIE | MCKINLAY | Glasgow |
| 2 | CHLOE | O'BRIEN | Blairgowrie |
| 3 | TAMZIN | CAIIRNS | Ayrshire |
| 4 | SARAH | JEFFREY | Ayrshire |
| =4 | EMMA | MORRISON | Ayrshire |

 

Winmau Scottish Youth GrandPrix Tour 2019

Huge Congratulations to Nathan Girvan (Angus) on again finishing 1st in the Winmau Scottish Youth GrandPrix Youth Tour - this is the 4th year in a row that Nathan has been No1 Scottish Youth Boy. Kyle Walker finished in 2nd place again this year.
Well done to Sophie McKinlay (Glasgow) on finishing No1 Scottish Youth Girl. This again was a fight between Sophie and Chloe O'Brien who had been No1 for the last 2 years. Hard work and determination paid off in the end for Sophie to get to the top.
Full points tables are available on SDA website
Boys - http://sdadarts.com/…/BoysWinmauScottishYouthTourPoints2019…
Girls - http://sdadarts.com/…/GirlsWinmauScottishYouthTourPoints201…
Players invitations for the Scottish Youth Invitational Matchplay will be published in due course but will be played on Saturday 11th January 2020 in CISWO, Glenrothes

 

Winmau Scottish Youth GP3

Well we had our last event in the Winmau Scottish Youth GrandPrix Tour of the year. We ventured into the digital world today and ran the 3 competitions using Dart Connect - thanks to David Maher who was on hand in Boston to help us with our questions.
It was a great day and the standard of darts is getting better and better.
You can see the stats from the matches by going to https://tv.dartconnect.com/matchlist/scottyouthciswogp3
you can see all the matches that the youths played and gives you results and averages.
It is great to see the youths moving on from the Future Stars events and being successful in the full event.
We have had 8 different winners over the 10 Future Stars events
We have had 4 different winners over the 13 Boys events and 2 different winners over the 13 girls events.
Results Future Stars -GP3
Winner Kyle Petrie (Angus)
R/Up Sam Imrie (Central)
Semi Finalists Flynn Tracey (Angus) Jack Macrae (Fife)
https://b13.events.dartconnect.com/view-previous/…
Girls GP3
Winner - Sophie McKinlay (Glasgow)
R/Up - Chloe O'Brien (Blairgowrie)
Semi Finalists - Rachael Findlay (Blairgowrie) & Ellie Wilson (NADA)
https://b13.events.dartconnect.com/view-previous/…
Boys
Winner - Nathan Girvan - Angus
R/Up - Scott Smith - Angus
Semi Finalists - Evan Williamson (Nada) & Dean Fitch Jr. (Glasgow)
https://b13.events.dartconnect.com/view-previous/…

 

NADA Youth Open Results
I am sure everyone who came along today will agree that we were treated again to some fantastic games of darts. We saw 8 players making their debuts and they all seemed to enjoy the experience. Well done to everyone and amazing to see the friendships between all the academies.
Boys Results
Winner - Nathan Girvan - Angus
R/Up - Dean Fitch Jr. - Glasgow
Semi Finalists - Evan Williamson - NADA & Josh Leitch Glasgow
Girls Results
Winner - Sophie McKinlay - Glasgow
R/Up - Emma-mai Morrison - NADA
Semi Finalists - Rachel Goodall - Glasgow & Tamzin Cairns - NADA
Future Stars
Winner - Stephen Pottinger - Lothian
R/Up - Ben Duncan - Grampian
Semi Finalists - Nathan Watson - Angus & Jack Kennedy (Julie Rundell) - Glasgow
Winmau Scottish Youth GrandPrix Tour Points have been updated and it is all to play for next month in the last event of the tour for this season. Places can still change for the top 16 Boys and Top 4 Girls for the youth invitational.
See you all at the next Winmau Scottish Youth Tour event in Glenrothes on 23rd Nov.
Boys Points - http://sdadarts.com/…/BoysWinmauScottishYouthTourPoints2019…
Girls Points -
http://sdadarts.com/…/GirlsWinmauScottishYouthTourPoints201…

 

World Cup - Romania
The World Cup is a joint event with the Boys and Girls points counting together.  It was fantastic that again Scotland came home in the medals.
This then saw Scotland coming home with
Girls Pairs - Silver Medal & Boy Pairs - Bronze Medal
Mixed Pairs - Bronze for Nathan & Chloe, (joint 5th for Kyle and Sophie)
With the icing on the cake with the team finishing in 3rd Place Overall in the Youth Championship.

This is the best result we have had in the World Cup for the youths over the years and the current Youths were a credit to their families and Academies in the way they conducted themselves during the week.  To say I am proud of them is quite an understatement.

 

Winmau Scottish Youth GP2
Another fantastic day at the Youth Darts. The Winmau Scottish Youth GP2 event.n It always is great to see all the youths together from the different academies supporting each other. Friendships made for ever.
I am really pleased with all the progress the players are making over this year.
Well done to all the players - some had the results they wanted and some were disappointed in their results but remember you won't always win but your time will come.
Future Stars
Winner - Evan Williamson - NADA
R/Up - Jaylee Larsson Mack - Central
Semi-Finalist - Lewis Smith & Martin Lynch - Angus
Girls
Winner - Sophie McKinlay - Glasgow
R/Up - Chloe O'Brien - Perthshire
Semi Finalists - Sarah Jeffrey - NADA, Abi Baxter - Central
Boys
Winner - Nathan Girvan - Angus
R/Up - Josef Honeyman - Perthshire
Semi Finalist - Samuel Vargovsky - Central & Dean Fitch - Glasgow
Points have been updated - Winmau Scottish Youth GrandPrix Tour
Boys
http://sdadarts.com/…/BoysWinmauScottishYouthTourPoints2019…
Girls
http://sdadarts.com/…/GirlsWinmauScottishYouthTourPoints201…
Well done again everyone

 

JDC World Championship

JDC Scotland took part in this event with Alan Soutar.

The boys all from Angus Academy all had a fantastic time in Gibralta and gained valuable experience being there

JDC International Open
John loses 4 -0 in last 128
Connor loses 4 -2 in last 128
Aaron loses 4 – 0 in last 128
Scott loses 4 – 3 in last 128
Kyle loses 4 – 3 in last 32
Nathan loses 6 -5 in Final

JDC World Cup
Finished 2nd in Group
Into last 16 and win 4 – 2 against Denmark
Last 8 – lost to Netherlands B – 4 – 2

 

Winmau Scottish Youth GP1
Great event again today – which saw some new names seeing success in the Future Stars.
Winner was Ruairidh Garnes (Angus) and Runner up was Baxter McIntosh (Highlands)
Boys Winner – Nathan Girvan (Angus)
Boys R/Up – Connor Mitchell (Angus)
Girls Winner – Sophie McKinlay (Glasgow)
Girls R/Up – Chloe O'Neill (Blairgowrie)

 

Winmau Scottish Youth Singles 2019 – 25th Aug 2019
What a great day it was on Sunday at this years Winmau Scottish National Singles. There were some surprise results and was good to see the Josef Honeyman winning his 1st main Scottish Title. Josef has been improving and the hard work he has put in is paying off. If the Final Josef came up against Scott Smith who like Josef has previously won a Future Stars event so now showing the importance of the Future Stars events in our programme.
We also played the World Masters Scottish Qualifiers. We had 36 entries for this event which saw another 2 up and coming players who for the last few years have been climbing the GrandPrix table and finishing in the top 10 in the last couple of years. Samuel Vargovsky and Dean Fitch Jr. both played very in the National Singles earlier on in the day and shone through in the qualifiers to take their place at the World Masters that will be playing in Grays Civic Hall in Essex.
Sophie McKinlay continued her great darts retaining her Winmau Scottish Youth National Singles Champion title. Also huge congratulations to Tamzin Cairns in getting to her 1st Scottish competition final. It was a great achievement for Tamzin and now hopefully will start to believe and push on from this result.
and brought her back to 1 point behind Chloe O'Brien in the Winmau Scottish Youth GrandPrix Tour Table.
Boys
Winner - Josef Honeyman - Blairgowrie
R/Up - Scott Smith - Angus
Semi Finalists - Dean Fitch Jr. Glasgow & Connor Mitchell Angus
Girls
Winner - Sophie McKinlay - Glasgow
R/Up - Tamzin Cairns - NADA
Semi Finalists - Tsara Maxwell Angus & Holly Frew, NADA
Points Tables
Boys
http://sdadarts.com/…/BoysWinmauScottishYouthTourPoints2019…
Girls
http://sdadarts.com/…/GirlsWinmauScottishYouthTourPoints201…

 

Caithness Youth Open 2019
Great Weekend at the Caithness Youth Open in the Winmau Scottish Youth GrandPrix Tour
The weekend started with a warm up competition on Friday night with adults and youths taking part. the eventual winner was Nathan Girvan who beat Connor Mitchell in the Final
Was great to see some new players heading to Wick for the weekend and maybe the results didn't go their way but they showed their ability and dedication.
Was great to see Liam Miller, Ross Smith and Aiden Sutherland all hitting 180's during their matches.
Results
Future Stars
Winner - Scott Smith - Angus
R/Up - Aiden Sutherland - Highlands
Semifinalists - Sam Imrie - Central & Jake Burgess - Blairgowrie
Girls
Winner - Chloe O'Brien - Blairgowrie
R/Up - Sophie McKinlay - Glasgow
Boys
Winner - Nathan Girvan - Angus
R/Up - Dean Fitch - Glasgow
Semi-Finalists - Connor Mitchell & Scott Smith - Angus

 

Blairgowrie Youth Open – 21st July

Contratulations to all the winners from Sunday's Blairgowrie Youth Open.
Some amazing darts were thrown which concluded with the Boys final. Oh wow - Great to see Josh Leitch progressing well in the competitions and played well to get to the Final against an in form Nathan Girvan - Nathan showed his true form in darts and won the final 4 nil - his winning average was 30.83
Results
Future Stars
Winner - Evan Williamson - NADA
R/Up - Jack Kennedy- Glasgow
Semi Finalists - Craig Coutts Grampian, Kyle Petrie Angus
Girls
Winner - Chloe O'Brien - Blairgowrie
R/Up - Holly Frew - NADA
Semi Finalist - Tamzin Cairns NADA, Sophie McKinlay Glasgow
Boys
Winner - Nathan Girvan - Angus
R/Up Josh Leitch - Glasgow
Semi Finalists - Kyle Walker Angus & Samuel Vargovsky - Central

 

Europe Cup 2019 – Turkey
I would like to start by saying what a fantastic and successful event in Turkey.  It saw Scotland coming home with Silver Medals in the Girls Pairs and Bronze Medals for 3rd Place Overall in the Girls Championship.
Sophie & Chloe started their 1st pairs game and showed how strong they were together with a 3-nil win over Beau and Shannon.  They finished top of their group and progressed into the last 8 to play Katie & Chloe from Ireland winning 3 nil again.  They had to wait until the next day to play their semi final against Anick & Marie from Denmark winning this 3-nil which set up a return match against Beau and Shannon – the way it worked was that their 1st match ended up being the same as their last match of the event.  
Sophie continued into the Singles the next day where she had left off in her pairs showing how dominant she was in this field of players.  She finished 2nd in her group only losing 1 match against Katie from Ireland 3-2.  This set up a last 8 match against Beau who was too dominant in this match and won 3-1.  Unfortunately, Chloe found the start of the singles a bit harder and lost her 1st two matches which gave her a mountain to climb to progress out of her group.  It went down to the wire and Chloe ended 3rd in her group with only 2 progressing.  She tied on points and legs and lost on a head to head countback.
All was to play for on the Finals day with the girls starting their match against Beau & Shannon knowing that the winner would likely finish European Overall Champions.  The girls got off to a shaky and went down 2 nil then it clicked and before long they were back to 2 each then again brought the tie back to 3-3.  The girls were unlucky in the last leg with doubles failing them.

The boys format this year was again played Round Robin's in Singles, Doubles and Team event.  This I think is a great format for the event and gives the boys more of a chance to get on their game and not being eliminated after 1st game of darts.  The Boys finished a disappointing 9th position but the boys gave 100% all through the competition and were gutted that they didn't progress through to the group stages in the Team event going down 9-6 against Denmark, 9-7 against Gibraltar & 9-3 to Ireland.
Both pairs qualified out of their group with Connor & John topping their group.  Connor & John played Sean & Justin from Gibraltar and put up a great fight losing out 3 – 1 in the last 16.  Nathan & Kyle finished 2nd in their group which matched up a game against the English pairing Leighton & Mitchell.
In the singles all players who had 3 in their group won 1 match and lost 1 match.  It was down to leg difference for them to qualify.  Unfortunately, John lost out on leg difference and didn't progress to the last 32 of the singles.  Connor, Nathan & Kyle all played their last 32 singles match and this was as far as they would go in the Singles Competition.

All in all it was a fantastic performance for both the boys and the girls
The tournament involved 13 boys teams and 10 girls teams.

Full report can be found - https://www.dartswdf.com/2019/07/11/wdf-europe-cup-youth-2019-draw/

 

 

Angus Youth Open was fully digital
Every single match on all 8 boards was on Dart Connect and if you couldn't make it to the venue then you could have kept up to date with every score via Dart Connect TV on your smartphone or tablet, wherever you were in the world.
The Angus Academy youths were on hand to help the other youths when they were using the tablets to keep score.

Some amazing games again

 

Glasgow Academy Youth Open
After another GrandPrix event we see how the players are progressing and the confidence that they are gaining in coming to these events. The Future Stars event again is a great event and is developing some great players
Boys Results
Winner - Connor Mitchell - Angus
R/Up - Josef Honeyman - Blairgowrie
Semi Finalists - Dean Fitch - Glasgow & Martin Lynch - Angus
Girls Results
Winner - Chloe O'Brien - Blairgowrie
R/Up - Sophie McKinlay - Glasgow
Semi Finalists - Tamzin Cairns - NADA, Sarah Jeffrey - NADA
Future Stars Results
Winner - Robbie Mullen - NADA
R/Up - Martin Lynch - Angus
Semi Finalist - Evan Williamson - NADA, Scott Smith - Angus
Grandprix Points Table has been updated
Well Done everyone
Sharon

 

Fife Youth Open 2019
Again we saw a great turn out at the Fife Youth Open
Nathan Girvan retained his Fife Open in a repeat of last year's Final with Josh Leitch.  It again was a great final and with both producing fantastic darts and Nathan's average was over 27avg & Josh with a 25 average for the match.
This saw the 2nd Final in a row for Josh who has shown improvement lately and shows great promise in continuing to move forward and shouldn't be long before he breaks through and wins one of the Winmau Scottish Youth GrandPrix events.

 

Winmau Scottish Youth Open 2019
Fantastic event today – well done to everyone who played
Boys Winner – Nathan Girvan (Angus)
Boys R/Up – Josef Honeyman (Perthshire)
Girls Winner – Chloe O'Brien (Blairgowrie)
Girls R/Up – Sophie McKinlay (Glasgow)

 

40th Winmau British International Darts Championship @ CISWO, Glenrothes

Friday
Boys Match – Wales 1 v 3 Scotland
Taylor Smoldon (19.60) 0 v 3 Connor Mitchell (23.48)
The 40th British International Darts Championships is this year being held at the CISWO Club, Glenrothes and got underway on Friday night with a Boys match between Wales and Scotland.
This is the ninth time the cream of British youth darts has gathered to determine the top nation in Britain. Taking to the stage for the first match was Taylor Smoldon the Welsh boys captain against young Scot Connor Mitchell making his debut.
Connor took the match in three straight legs finishing the second leg on 72.
Ethan Haymes (19.10) 0 v 3 Nathan Girvan (29.47)
The second match featured a debut player from Wales as 14 year old Ethan Haymes lined up against Nathan Girvan (16), from Angus making his fourth consecutive appearance for Scotland in the British Internationals.
Hitting a fantastic 29.47 average Nathan took the match 3-0.
Sion Russell (18.40) 2 v 3 John Gallazzi (18.55)
Sixteen year old Sion got the crowd on their feet as he hit a 180 with his first three darts only for both players to struggle with the closing double with John closing the leg on double seven.
With the help of another 180 Sion levelled the match at 1-1 despite both players having chances. Wales went ahead taking the third leg only to see Scotland tie the set up at 2-2.
In a very nervy fifth leg it was John who held it together to clinch the set on double one.
Connor Hopkins (21.78) 3 v 0 Kyle Walker (20.11)
The youngest player in the match thirteen year old Connor took the opening leg and then started the second leg with a maximum going on to make it 2-0 with a double eight checkout.
Connor started the third leg with a 180 and despite Kyle also hitting a maximum Connor went on to take the set 3-0 for a final match score of 3-1 to host nation Scotland.
Girls Match – Scotland 2 v 0 Wales
Sophie McKinlay (20.59) 3 v 0 Tamzin Parr (13.46)
Making her debut for Scotland thirteen year old Sophie McKinlay took the opening leg against sixteen year old Tamzin Parr with a 76 checkout then won the second leg for a 2-0 lead.
Sophie led from the start in the third leg and wrapped up the set with a 54 checkout.
Chloe O'Brien (20.04) 3 v 0 Jasmin Dean (14.00)
Playing in her second British Internationals 15 year old Chloe O'Brien defeated debut Welsh girl Jasmin Dean (17), 3-0, to give Scotland maximum points from their opening match
Saturday
Girls Match – Scotland 1 v 1 England
Sophie McKinlay (21.57) 0 v 3 Beau Greaves (28.36)
England girls enter the fray today with 15 year-old Beau Greaves taking on 12 year-old Sophie McKinlay from East Stirlingshire who made her Scotland debut the night before.
Beau Greaves shattered the Girls Youth British International record winning 3-0 with a brilliant 28.36 average which included a 101 checkout in the second leg.
Chloe O'Brien (18.33) 3 v 1 Shannon Reaves (14.54)
Perthshire's Chloe O'Brien kept Scotland in with a chance of the title with a 3-0 win over Shannon Reeves. England now need to defeat Wales 2-0 to contest the championship with Scotland.
Boys Match – Scotland 1 v 3 England
Connor Mitchell (20.23) 0 v 3 Keelan Kay (24.64)
In what would be a virtual final, both teams having defeated Wales by the same score, Scotland took on England in the final Boys match of the weekend.
England's captain Keelan Kay would face Connor Mitchell from Angus and the English lad took the match 3-0.
Kyle Walker (22.37) 0 v 3 Leighton Bennett (29.47)
Living up to his Boom Boom nickname Leighton sprinted to a 3-0 victory with a 180 and a 100 checkout to record a 29.47 average.
John Gallazzi (17.16) 1 v 3 Mitchell McCarthy (18.51)
In a nail-biting set Mitchell wrapped up the title for England with a 3-1 win over John, with both players experiencing missed doubles.
Nathan Girvan (24.10) 3 v 2 Brad Phillips (25.15)
Scotland's final player, one of four Angus academy players in the team, was Nathan Girvan, playing Brad Phillips of England.
Nathan took the first leg before seeing Brad hit a 174 and go on to level the set.
The third leg went to Nathan but Brad answered by winning the fourth leg to take the set to a decider. Nathan started the final leg with a 180 and went on to finish the leg on double tops in 13 darts to put a point on the board for Scotland.

 

Scottish Youth Masters 2019 @ Arbroath

March 10, 2019
The Scottish Youth Masters 2019 tournament was held at the CAFÉ Project, Arbroath and featured three separate competitions.
The Boys Champion is Kyle Walker (Angus) who beat Josh Leitch (Greater Glasgow) 5-3 in the Final.
The Girls Champion is Sophie McKinlay (Greater Glasgow) who beat Tsara Maxwell (Angus) 4-1 in the Final.
The Future Stars Champion is Ben Duncan (Grampian) who beat Aaron Mitchell (Angus) 2-1 in the Final to lift the title.

 

Central Darts Youth Open 2019 @ Cowie

There was a terrific turnout of players at the Central Youth Open at Cowie with three tournaments played under the best of order with the youth of Scotland once again showing the adults how it should be done.
The girls title went to Chloe O'Brien from Blairgowrie with a 3-1 victory in the final over Glasgow's Sophie McKinlay, Chloe averaging 18.38 per dart compared to 19.72 from Sophie.
To reach the final Sophie defeated Tsara Maxwell from Angus, 3-0 while Chloe gained her final spot with a 3-0 win against Ayr's Sarah Jeffrey.
Angus sensation Nathan Girvan (26.72) added to his already stacked CV, and taking his second tournament in a row, with a 4-0 final victory over fellow Angus Academy player Kyle Walker (24.58).
In the semi-finals Nathan stopped Aaron Mitchell from Angus 3-1 but Aaron had the consolation of knowing he was the only player to take a leg from Nathan all day. Taking his spot in the final Kyle defeated Glasgow's Josh Leitch 3-2 in a five leg thriller.
In a competition designed for up and coming players, the Future Stars champion was another Angus starlet, Logan Guthrie, who defeated Nathan Watson, also from Angus, 2-0 to take the title.
The semi-finalists were Jaylee Mack from Central and Angus player Lewis Smith.

 

SDA Winmau Youth Invitational Singles @ CISWO, Glenrothes
January 28, 2019
The day after the Mixed Pairs the Winmau Youth Invitational Singles, sponsored by JW Entertainments (James Ward), was also held at CISWO.
Glasgow's Sophie McKinlay retained her girls Winmau Youth Invitational Singles title with a final victory over Blairgowrie player Chloe O'Brien while Nathan Girvan defeated Kyle Walker in the final of the boys competition to win his second Winmau title.
 In the boys competition Angus Youth Academy supplied all the semi-finalists and making up the last four were Johnny Galazzi and Connor Mitchell.

 

2019 - Event Reports

 

JDC World Cup - 2018

At the start of the JDC Junior World Cup Scotland Select were drawn out in Group 2 with England, China, USA and Sweden while in Group 1 were Ireland, Netherlands, Spain, Wales, Iceland and Gibraltar.

Scotland Select were represented at the Action Indoor Sports Centre in Bristol by four players from the Angus Youth Academy, John Gallazzi, Nathan Girvan, Kyle Walker and Connor Mitchell.

Scotland Select opened with a fine 4-0 win over China but were pegged back 4-2 by a strong England youth squad though Scotland Select had chances to reverse the score.

The Scots picked up the pace once more and defeated USA 4-1 followed by a win against Sweden by the same score to progress to the semi-finals.

In the last four they were drawn to play Ireland and in an action packed semi-final Ireland defeated an out of sorts Scotland Select over six sets. Keane Barry and Killian Heffernan made light work of their singles matchups, while Katie Sheldon produced another sensational display to put Ireland in control.

The aforementioned Barry and Heffernan would lose their doubles encounter with Nathan Girvan and Connor Mitchell, so it was left for Sheldon and Sean Cummins to pick up the pieces.

Cummins would begin the 601 leg with an outstanding 180, and his explosive nature would be a feature of the final leg. Some power scoring from the 15-year-old gave himself time and space to hit the winning double ten and send Ireland through to the World Cup final.

Coming through from the other half of the draw the strong Netherland quartet defeated England 4-0 to stake their claim to a final place.

The Dutch team continued in great form and wrapped up the final 4-2 by taking both doubles sets after the singles finished all square.

The following day the JDC European Open took place and Nathan Girvan battled through to the semi-final where he lost out 5-4 to Sean Cummins from Ireland after defeating Holland's Jurjen Van Der Velde, the newly crowned Winmau World Masters champion, 4-2 in the quarter finals.

Nathan did extremely well in the JDC World Youth Championship qualifying tournament on Sunday when again he reached the last 16, this time losing out 4-2 to Ireland's Keane Barry.

 

WINMAU SCOTTISH YOUTH TOUR - 2018

Well done to Nathan Girvan and Chloe O'Brien in finishing 1st in the Winmau Scottish Youth Grandprix Tour 2018 for the 2nd year in a row.
Final Boys placings were

Nathan Girvan – Angus
Kyle Walker – Angus
Brandon Nicoll – Angus
John Gallazzi – Angus

Final Girls Placings were

Chloe O'Brien – Blairgowrie
Sophie McKinlay – Glasgow
Bobbie Smith – Angus
Emma Morrison - NADA

GrandPrix Tour Girls
GrandPrix Tour Boys
 

 

WINMAU SCOTTISH YOUTH GP3 - 2018

GrandPrix 3 was the last event of this year's Winmau Scottish Youth GranPrix Tour.  We still saw new players coming along to take part in the Tour which is great to see.
The darts didn't disappoint at all and I am sure that everyone that was there would agree.
The Boys competition saw Flynn Tracey getting to his 1st semi final in the main competition – looks like the experience and playing in the Future Stars has helped Flynn get some confidence and belief in his ability.  We also saw Dean Fitch getting into his 3rd Semi Final of the tour.  John Gallazzi and Nathan Girvan showed class and we were privileged to watch a fantastic final which Nathan came out on top winning 4-1 with a 29.19 average.  The Boys 1st Place on the Tour was already secured by Nathan for the 2nd year in a row and Kyle Walker managed to hold on to 2nd Position from John Gallazzi.
Well done to Sophie McKinlay who played well all day to claim her 7th Title of the GrandPrix Tour.
She started the day 24 points behind Chloe O'Brien but the gap was just too much with Chloe getting into the final too.  This meant that Chloe held her 1st place in the Winmau Scottish Youth GrandPrix Tour and Sophie finished 2nd.  This is great for both girls and especially to Chloe finishing 1st for the 2nd year in a row.
The Future Stars event saw Sophie getting over the final hurdle to win a Future Stars event after being in 2 previous finals.  Sophie played Nathan Watson who was playing in his 1st Future Stars event final.
Boys
Winner – Nathan Girvan - Angus
R/Up -  - John Gallazzi - Angus
Semi Finalists – Flynn Tracey – Angus & Dean Fitch - Glasgow
Girls
Winner - Sophie McKinlay - Glasgow
R/Up - Chloe O'Brien - Blairgowrie
Semi Finalists – Sarah Jeffrey – NADA  & Bobbie Smith - Angus
Future Stars
Winner – Sophie McKinlay - Glasgow
R/Up – Nathan Watson - Angus
Semi-Finalists – Lewis Wright - Blairgowrie & Scott Smith - Angus

GP3 Girls ------- ---GP3 Boys
GP3 Future Stars

 

NADA YOUTH OPEN - 2018

What a fantastic day was had by all.  The standard of the darts goes from Strength to Strength.  It is great to see the friendships that have been made over the years of attending these events but when on the dart board it is always a good fight but always back to friends when the match has finished.
Well done to Sophie McKinlay who played well all day to claim her 6th Title of the GrandPrix Tour.
This makes the last match all to play for to see who finishes 1st on the 2018 table.
Kyle Walker took his form into this competition and won his 2nd Title of the Tour.  He played really well and looked comfortable in only losing 3 legs of darts all day.
Samual Vargovsky continued his Future Stars dominance and won his 4th title.
Boys
Winner - Kyle Walker - Angus
R/Up -  - Connor Mitchell - Angus
Semi Finalists - Johnny Gallazzi – Angus & Samuel Vargovsky Central
Girls
Winner - Sophie McKinlay - Glasgow
R/Up - Chloe O'Brien - Blairgowrie
Semi Finalists - Molly Melbourne – NADA  & Bobby Smith - Angus
Future Stars
Winner - Samuel Vargovsky - Central
R/Up – Scott Smith - Angus
Semi-Finalists – Evan Williamson & Ryan McKendrick - NADA

NADA Girls ----------NADA Boys

NADA Future Stars

 

CAITHNESS YOUTH OPEN - 2018

The Winmau Scottish Youth GrandPrix Tour travelled to the North of Scotland to take part in the Caithness Youth Open including the Future Stars event.  It has been hard for the players in the Caithness Academy to travel to the Tour events because of the distance and cost of overnight stays for a tour event.  Since they started travelling regularly in 2015 they have attended 35 events of 49 that have been held – that is a whopping 71% attendance- with a minimum of 500 miles round trip to play a game of darts to me shows the commitment they have to this sport and Scottish Youth Darts.
It was a great weekend from start to finish and we saw 20 boys and 8 girls in the competitions of which 8 boys and 2 girls had travelled north to take part in this event.  We also played an U14 Future Stars event which saw some great darts played by the younger players.  We saw players as young as 9 winning matches and the look on their face when registering their result was amazing.
Many players scored 180's over the course of the day and Connor Michell showing how much he has improved with a 12 darter.
The Boys Final was between Nathan Girvan and Connor Mitchell with Nathan showing his experience and push to take the match 4 – 3 to win his 6th Title of this year's Tour.
Chloe O'Brien also gained her 6th title of the year equaling her wins last year but still has 2 events to play for this year – all to play for to beat last year's result.
Would also like to mention a huge well done to Stephen Pottinger getting to his 1st Semi Final and Jake Burgess getting to his 1st Quarter Final in the main competitions.

Results

Future Stars
Winner – Ryan Campbell (Caithness)
R/Up – Logan Moodie (Caithness)
SemiFinalist – Sam MacLelland (Caithness/Skye) Sophie McKinlay (Glasgow)

Girls
Winner – Chloe O'Brien (Blairgowrie)
R/Up - Sophie McKinlay (Glasgow)
Semi Finalists – Kara Sutherland & Sammie Campbell (Caithness)

Boys

Winner – Nathan Girvan (Angus)
R/Up – Connor Mitchell (Angus)
Semi Finalists – John Gallazzi (Angus) & Stephen Pottinger (Lothian)

All in all a great weekend for Youth darts in Scotland

Caithness Girls ----------Caithness Boys

Caithness Future Stars

 

GRANDPRIX 2 - 2018

Well what a day again at the latest Winmau Scottish Youth Tour event. It saw 37 boys playing in the event to become GrandPrix2 winner. Some matches took our breath away. When 13 - 15 year olds play matches in 12 - 15 darts it is amazing to watch. This was eventually won by Kyle Walker in a fantastic final against Johnny Gallazzi. Today saw the end of the youth career for a couple of our current Scottish Youth Team players Brandon Nicoll & Aaron Douglas as they both turn 18 in the next few weeks. Good luck in your senior career - you both have the ability to go far.
We also had 9 girls along playing at the top of their game to contest the Girls competition which saw Sophie McKinlay coming out as eventual winner after beating Chloe O'Brien.
Well done to all the players that played in the Future Stars U14 event. This competition is fantastic and is great to see the players progress and built confidence. Today we saw Aiden Macleod play and win his 1st match in any of the Tour events. This is no mean feat for a 7 year old. The smile and pride on his face coming to give me his 2-0 result was amazing.

Results

Boys
Winner - Kyle Walker - Angus
R/Up - Johnny Gallazzi - Angus
Semi Finalists - Dean Fitch Glasgow & Samuel Vargovsky Central

Girls
Winner - Sophie McKinlay - Glasgow
R/Up - Chloe O'Brien - Blairgowrie
Semi Finalists - Molly Melbourne & Emma-mai Morrison - NADA

Future Stars
Winner - Samuel Vargovsky - Central
R/Up - Flynn Tracey - Angus
Semi-Finalists - Nathan Watson & Harris Shepherd - Angus

All in all a great day for Youth darts in Scotland

 

 

GP2 Future Stars

BLAIRGOWRIE YOUTH OPEN - 2018

Well what can I say - these youths never cease to amaze me. Their ability is second to none - Well done to all the players from today. It is great watching the Future Stars matches - to see the joy in some of the younger players faces when they win is fantastic. It is building their confidence every time we play these events. Well done to Samuel Vargovsky in winning the event and unlucky to Sophie McKinlay - well done to Evan Williamson, Nathan Watson & Flynn Tracey getting to the Quarters and a huge shout out to Jake Burgess getting to the Semi Final. Scott Smithy showed his usual skills to get through the field in this competition.
Nathan Girvan continued with his dominance in the events winning his 5th Grandprix event of the season. Connor Mitchell, Kyle Walker and John Gallazzi all gained valuable points being either beaten Semi Finalists or Finalists.
Chloe O'Brien also continued her run of form in winning her 5th event of the tour. Was good to see Emma Emma-mai Morrison getting to her 1st Final of the season.
Results

Future Stars
Winner - Samuel Vargovsky - Central
R/Up - Sophie McKinlay - Glasgow
Semi Finalists - Jake Burgess Blairgowrie & Scott Smithy - Angus

Girls
Winner - Chloe O'Brien - Blairgowrie
R/up - Emma-mai Morrison - Ayrshire
Semi-Finalists - Bobbie Smith - Angus & Molly Melbourne - Ayrshire

Boys
Winner - Nathan Girvan - Angus
R/Up - Kyle Walker - Angus
Semi Finalist - Connor Mitchell & John Gallazzi - Angus

Still all to play for - onto the next event on 8th September in Glenrothes

 

 

Blair Future Stars

 

ANGUS YOUTH OPEN 2018

Well another great day was had in Arbroath. We had 37 boys and 9 girls talking part in the Angus Youth Open 2018 and after some fantastic matches with many 180's, 170 checkout, 154 checkout and other milestones for other players we were at the Semi Final stage of the boys competition and the Final of the Girls event.  The first Semi Final saw 2 Angus players Nathan Girvan and Brandon Nicoll with Brandon winning through to the final with a 28.74 average.  The 2nd Semi Final saw a couple of up and coming players Connor Mitchell (Angus) and Josef Honeyman (Blairgowrie).  This was a good fought game with Connor winning the match – Josef was disappointed but with this being his 1st Semi Final in the Tour he will surely be back and will be adding to his semi final count in the future.
The Girls event didn't disappoint either with some amazing matches. Bobbie Smith got back to winning ways and won through to the final but came up agains an on form Chloe O'Brien who won her 3rd Tour event in a row.
Angus Academy added a Future Stars U14 competition this year during the event and 19 of the 46 players in the main competition were U14 so were able to enter this competition.  This was a great event and was great to see the younger players gaining confidence and giving them a good chance to come out winning.  Was a great result for Samuel Vargovsky who came out winner on the day beating Sophie McKinlay in the final.

Boys results
Winner – Brandon Nicoll - Angus
R/Up – Connor Mitchell - Angus
Semi Finalists – Nathan Girvan – Angus & Josef Honeyman - Blairgowrie

Girls Results
WInner - Chloe O'Brien - Blairgowrie
R/Up – Bobbie Smith - Angus
Semi Finalists - Sophie Mckinlay - Glasgow & Ellie Wilson - Ayrshire

Future Stars
Winner - Samuel Vargovsky - Central
R/UP - Sophie McKinlay - Glasgow
Semi Finalists - Harris Shepherd & Scott Smith - Angus

 

AYO Future Stars

 

WINMAU SCOTTISH YOUTH GRANDPRIX TOUR UPDATE

The Winmau Scottish Youth Tour continued at the weekend with The Scottish Youth Open. Since the last update we have had a few other competitions with approximately 45 youths coming along to each event.
Huge congratulations goes to Douglas King (Ayrshire) in winning his 1st Tour event and became the Scottish Youth Open Boys Champion after a very good final against John Gallazzi.

In the Girls competition Chloe O'Brien and Sophie McKinlay have been continuing their dominance in the girls event both winning 3 and runner up in 2 of the events that we have been played so far in the Tour.
In the Boy's tour Nathan has stretched away from Brandon who is in 2nd Place with 4 wins under his belt.

Results

Fife Youth Open
Boys
Winner – Nathan Girvan – Angus
R/Up – Josh Leitch – Glasgow
Semi Finalists – Brandon Nicol-Angus & Finlay Watson-Fife

Girls
Winner - Sophie McKinlay – Glasgow
R/Up - Tsara Maxwell – Angus
Semi Finalists – Chloe O'Brien-Blairgowrie & Emma Morrison-Ayrshire
------------------------------------

Glasgow Academy Youth Open
Boys
Winner - Nathan Girvan - Angus
R/up - Samual Vargovsky – Central
Semi Finalist – Aaron Douglas – Ayrshire & Kyle Walker-Angus

Girls
Winner – Chloe O'Brien – Blairgowrie
R/Up – Sophie McKinlay – Glasgow
Semi Finalists – Bobbie Smith & Tsara Maxwell – Angus
---------------------------------------------------------------

Winmau Scottish Youth Open
Boys
Winner – Douglas King – Ayrshire
R/Up – John Gallazzi – Angus
Semi Finalists – Samuel Vargovsky-Central & Nathan Girvan-Angus

Girls
Winner – Chloe O'Brien – Blairgowrie
R/Up – Sophie McKinlay – Glasgow
Semi Finalists – Emma Morrison-Ayrshire & Tsara Maxwell – Angus

Well done everyone and keep practicing.

Winmau Scottish Youth Results

 

WINMAU SCOTTISH YOUTH GRANDPRIX 1

The Winmau Scottish Youth Tour continued at the weekend with GrandPrix 1 and also the Future Stars GrandPrix 1 events.
We had 40 players competing in the main event with 20 under 14's competing in the Future Stars event.
Congratulations to Sophie McKinlay who came out winner of the girls event 3-0 against Chloe O'Brien. Both girls played well but Sophie showed how much she has been improving over the last while with a 22.43 average. This would be some average for anyone but for an 11 year old it is amazing.
After this fantastic match the boys had a lot to live up to. Oh boy and they did – Nathan Girvan showed what makes him one of the best players in Scotland – with a 29.04 average to win 4 nil against Kaden Mitchell was amazing and fast to watch. He completed the match in 18, 20, 14 & 17 darts.
We had the 2nd of our Future Stars events and it is great to see the younger players getting such a buzz in playing this event and winning matches. The smile on their faces makes it all worth it. The players are gaining more confidence in matches. It was great to see Jake Burgess and Evan Williamson's faces getting into the quarter finals. This is what the Future Stars is all about.
Well done to all the players and a great effort from Scott Smith who played Josef Honeyman in the Semi Finals this time – Josef got revenge from the final last time and played Connor Mitchell in the final this time. It was a really close match with Connor coming out winner.. Keep going Josef it will come – the experience you are getting in these matches is invaluable.

Results were
Boys
Winner - Nathan Girvan (Angus)
R/Up – Kaden Mitchell (Angus)
Semi-Finalists – Aaron Douglas (Ayrshire) and Connor Mitchell (Angus)
Girls
Winner – Sophie McKinlay (Glasgow)
R/Up – Chloe Chloe O'Brien (Blairgowrie)
Semi-Finalists – Bobbie Smith and Tsara Maxwell (Angus)
Future Stars
Winner – Connor Mitchell (Angus)
R/Up – Josef Honeyman (Blairgowrie)
Semi-Finalists – Sophie McKinlay (Glasgow) & Scott Smithy (Angus)

Well done everyone and keep practicing.

 

Future Stars Results


BRITISH INTERNATIONALS 2018

Both Scotland Youth Boys & Girls teams were involved in the British Internationals at the weekend.  This was a fantastic event and the boys and girls played amazingly well and were a credit to themselves in they way they played and behaved over the weekend.  Scotland Youth Boys won the British International's Championship and the Girls were unlucky and finished 2nd equal with England Girls winning the Championship by 1 leg.
The event has been running for 7 years and this is the 1st time Scotland has won the event.
The Scotland Team consisted of 4 boys and 2 girls.
Brandon Nicoll (Angus) Age 17
Aaron Douglas (Ayrshire) Age 17
Nathan Girvan (Angus) Age 15
Kyle Walker (Angus) Age 14
Kara Sutherland (Highlands) Age 16
Chloe O'Brien (Perthshire) Age 14
The honour of the opening match fell to England v Scotland Boys with English debutante Brad Phillips (22.46), who hit two maximums and won the match with a 100 checkout against Brandon Nicoll (21.37) from Angus.
However that was the only set that England took as Scotland won the remaining three sets for an opening 3-1 victory.
Nathan Girvan (27.84) levelled the score for Scotland with a 3-2 win over Keelan Kay (22.59) who hit England's third maximum.
Scotland edged into the lead with a 3-0 win by Aaron Douglas (22.77), including a 104 checkout, over Jack Vincent (21.11) and this was followed by the winning set by Scotland debut player Kyle Walker (20.82) from Angus who checked out 86 on the bull to defeat Alex Gurr (20.26) 3-1.  Scotland Team Average (23.11 and England Team Average 21.68.
The next match for the boys was on Saturday and saw them take on Wales.
Brandon Nicoll was once more drawn out first as Scotland Boys took on Wales on stage. Brandon (17.47) lost out 3-0 to Taylor Smolden (17.89), with Smolden hitting a 171.
Wales increased their lead with Lewis Williams (26.07) defeating Nathan Girvan (24.58), 3-1.
Scotland took their first set of the match with a 3-2 win by Kyle Walker (22.32), playing his second ever International for Scotland and hitting a 102 checkout, against Connor Hopkins (22.60).
This left it all to play for with Aaron Douglas (20.89) representing Scotland against Sion Russell (18.81). It was the Scottish player that notched the final double to to give Scotland the draw and the overall British Boys Championship title.

The Scotland Girls Team
The Girls team started their campaign against Wales on the first day with Kara Sutherland (13.41), on her International debut, from Caithness losing 3-1 against Jessica Bonner (15.35) from Wales.
Perthshire's Chloe O'Brien (17.48) ensured a share of the points for Scotland's girls with a 3-0 victory over Wales debutante Megan Vodden (14.21).
Scotland Team Average 15.04 and Wales Team Average 14.89

Saturday's matches started off with Scotland versus England in the Girls Championship and making her second appearance of the weekend Kara Sutherland took on Beau Greaves. Beau took the match 3-0 with a 21.78 while Kara averaged 15.36.

Chloe O'Brien (15.48) from Perthshire once more gained a share of the points for Scotland as they recorded their second tied match of the weekend, with a 3-2 win over Shannon Reeves (14.35).
Scotland Team Average 15.44 and England Team Average16.63

WINMAU SCOTTISH YOUTH MASTERS 2018

Well another fantastic event today. The Winmau Scottish Youth Masters was again a huge success.
Well done to Brandon Nicoll the eventual winner who came through a great field of players. Also well done to Sophie McKinlay who was the eventual winner of the girls event.
A huge shout out goes out to Scott Smith who became the 1st champion of our new venture Future Stars. He became the Future Stars Scottish Masters Champion. It was a great birthday present for him.
Results
Winmau Scottish Youth Masters Boys
Winner - Brandon Nicoll - Angus
r/up - Aaron Douglas - Ayrshire
Semifinalists - Martin Lynch Angus & Josh Leitch - Glasgow

Winmau Scottish Youth Masters Girls
Winner - Sophie McKinlay - Glasgow
R/Up - Chloe O'Brien - Blairgowrie
SemiFinalists - Emma-mai Morrison - Ayrshire & Bobbie Smith - Angus

Future Starts Scottish Youth Masters
Winner - Scott Smith - Angus
R/Up - Josef Honeyman - Blairgowrie
SemiFinalists - Evan Williamson & Robbie Mullen both Ayrshire

 

Future Stars Result


CENTRAL YOUTH OPEN 2018

What an amazing start to the Winmau Scottish Youth Grandprix Tour - this started yesterday with the Central Youth Open. Some of the players started the 1st comp of the Tour where they left off last year. We saw 180's galore with Nathan with 14 darts and 16 darts in the final with Brandon hitting back with a 15 darter.
Chloe showed her skill in the Girls final hitting a 180 and was on 81 after 9 darts.
Was good to see some new players coming along. All the Youth's again showed great sportsmanship and were there to support each other and were more than willing to mark games during the day.
Looking forward to the next event in March. The future looks bright for Scottish Youth Darts.
Boys Results
Winner - Nathan Girvan - Angus
R/Up - Brandon Nicoll - Angus
Semi Finalists - Connor Mitchell & Kieran Simpson both Angus
Girls Results
Winner - Chloe O'Brien - Blairgowrie
R/Up - Bobbie Smith - Angus
Semi Finalists - Sarah Jeffrey & Ellie Wilson both Ayrshire

Boys Results
Girls Results

 

Winmau Scottish Youth Individual Matchplay 2018

Had a fantastic day at the darts today with such amazing talent on show.
The boys event includes the 16 players who qualify through the Winmau GrandPrix Table and the girls event includes 4 players.
We started out with the group round robin stages - the players are Seeded in the Round Robin and they played 6 legs per match (4 for the girls).
Some great results in the Round Robin's and many 140's and 180's scored.
Well done to Sophie with her 156 checkout to secure her 3-1 win during the girls round robin event.
Well done to our eventual winners.

Boys
Winner - Brandon Nicoll - Angus
R/Up - Nathan Girvan - Angus
Semi Finalists - John Gallazzi & Kieran Simpson

Girls
Winner - Sophie McKinlay - Glasgow
R/Up - Chloe O'Brien - Blairgowrie

This was the 1st competition of the season and I can't wait to the next one - these youths amaze me with their commitment and skill at this game.
Scottish Darts is looking healthy in the hands of the Youths coming through.
Would like to thank James Ward (JW Entertainments) for their sponsorship and hopefully we can keep this as a long running arrangement. Thanks James for coming along and presenting the prizes. Would also like to thank the Ciswo for their continued support and hopefully everyone liked the new venue.

 

Results

 

Scottish Youth Team 2018

It gives us great pleasure to announce the Scotland Youth Team 2018 - they will be taking part in the British Internationals in April and also the Europe Cup Youth in July.

It again was a really hard selection process with many players mentioned during the selection process.

Aaron Douglas - Ayrshire 
Brandon Nicoll - Angus   
Nathan Girvan - Angus
Kyle Walker - Angus  (New Cap)
 
Chloe O'Brien - Blairgowrie
Kara Sutherland - Highlands (New Cap) 
Sharon Macfarlane - Team Manager 

Huge Congratulations, good luck to all players - now the hard work begins because this is the start of the process - keep practicing and build on your skill and talent.

 

Winmau Scottish Youth Tour 2017

Huge Congratulations to Nathan Girvan who finished 1st in the Boys Winmau Scottish Youth GrandPrix Tour for the 2nd year in a row. It was a tight finish with him just pipping Brandon Nicol at the post although Brandon won 5 of the tour events against Nathan's 4 wins Nathan had more semi finalist & Quarter Finalist finishes that gave him the 4 points advantage.
Well Done also to Chloe O'Brien who finished 1st in the Girls Tour. Chloe was dominant in this year's Tour winning 6 of the 13 events. Chloe finished 62 points ahead of 2nd place Kara Sutherland who has shown commitment to the Tour by travelling from Wick. Kara won 3 events during the year with 2 r/up positions and 3 semi-finalist positions.

Top 4 Final Boys Tour positions are
Nathan Girvan - Angus - 235 points
Brandon Nicoll – Angus - 231 points
Kyle Walker – Angus - 167 points
Aaron Douglas – Ayrshire – 161 points

Top 4 Final Girls Tour positions are
Chloe O'Brien – Blairgowrie - 237
Kara Sutherland -Wick\Highlands 175
Sophie McKinlay - Glasgow 165
Bobbie Smith - Angus 156



 

Winmau Scottish Youth GrandPrix 3

Well another amazing day at the Youth Darts.
Well done to all the Youth's that attended this event and all the others throughout the season. The standard has been amazing and gets better and better every competition. Special mention to young Harris Shepherd who looked so chuffed and excited to score 180 in a Scottish Youth event. We saw some class matches and all were fighting to either get into the top16 or stay in the top 16.

Boys Results
Winner - Nathan Girvan – Angus
R/Up – Aaron Douglas – Ayrshire
Semi Finalists – John Gallazzi & Connor Mitchell – Angus

Girls Results
Winner – Kara Sutherland – Highlands
R/Up – Abigail Duncan – Highlands
Semi Finalists – Sophie McKinlay – Glasgow & Bobbie Smith – Angus

 

Winners - Nathan Girvan - Angus
Kara Sutherland - Highlands
Boys Drawsheet/Results
Girls Drawsheet/Results

 

NADA Youth Open 2017

Congratulations to Chloe O'Brien and Brandon Nicoll who came out winners of the competition today.  There were some close games and the youths that lost in these games should take the positive out of the game.  Also a massive well done to Connor Mitchell who progressed to his 1st ever Semi Final at a Scottish Tour event.  He has been showing progress in the last couple of competitions getting to two Quarter Finals and now a Semi Final.
There were ups and downs for some of the players but don't be too disheartened.  Keep practicing and showing commitment and you will see the results.

Boys Results
Winner – Brandon Nicoll- Angus
R/Up - Nathan Girvan - Angus
Semi Finalists - John Gallazzi and Connor Mitchell - Angus


Girls Results
Winner - Chloe O'Brien - Blairgowrie
R/Up - Kara Sutherland - Highlands
Semi Finalists - Bobbie Smith - Angus & Abigail Duncan - Highlands

All to play for in the last event of the Season on Nov 18th

Winners - Brandon Nicoll - Angus
Chloe O'Brien- Blairgowrie
Boys Drawsheet/Results
Girls Drawsheet/Results

 

Lothian Youth Open 2017

Well what can I say about the Lothian Youth Open - fantastic darts, fantastic players and great friends all together for a couple of hours to see how comes out the winner. The darts are amazing and they all encourage each other. Players are showing some class and moving up the Winmau Scottish Youth Tour GrandPrix table which is a great achievement for some of the younger players - again Samuel Vargovsky gained valuable points. Many are fighting for a top 16 place to be invited to the Scottish Youth Matchplay invitational (must attend minimum of 10 events to qualify for an invitation).

The players have nerves of steel to play at this level - we saw 160 check outs, 110 checkouts and I lost count of 180's, 140's, 137's etc.

It is a pleasure to go along to these events with the youths. They are a credit to their families and Academies.

Huge congratulations to Aaron in winning his 1st GrandPrix event - he has knocked on the door so often and finally held his nerve to get the win he deserved. Was a great final to watch - Well done Kyle for your playing your part in the final.

Well done to Chloe O'Brien in winning her 5th Event of the year.

Boys
Winner - Aaron Douglas - Ayrshire
R/Up - Kyle Walker - Angus
Semi Finalists - John Gallazzi & Kieran Simpson - Angus

Girls
Winner - Chloe O'Brien - Blairgowrie
R/UP - Bobbie Smith - Angus
Semi Finalists - Kara Sutherland - Highlands & Sophie McKinlay - Glasgow

Winners - Aaron Douglas- Ayrshire
Chloe O'Brien- Blairgowrie
R/Up's - Kyle Walker - Angus
Bobbie Smith - Angus
Boys Drawsheet/Results
Girls Drawsheet/Results

 

Winmau Scottish GrandPrix 2
Another fantastic day at the darts in the Winmau Scottish GrandPrix 2.
Some darts again – with a 105 average for Brandon Nicoll in his Semi Final against Nathan Girvan and a 90 average against Kieran Simpson in the Final.
It is good to see other players gaining confidence and their hard work and practice paying off.  We forget some of these players are still kids and are 12, 13 & 14 years old.  Players creeping up the table are Kieran Simpson and Samuel Vargovsky.  Kieran is now 4th place on the table helped by his win and r/up in the last 2 competitions and Samuel Vargovsky has been beaten semi-finalist in the last 2 competitions and sits in 8th position.
The top 10 players in Scotland ages range from 12 to 17 year olds.
All to play for in the last 3 comps of the year.  The fight is on to get into the top 16 to be invited to the Scottish Youth Invitational Matchplay.  (remember you must have competed in at least 10 events in the year to be invited)
The table makes interesting reading and Brandon overtook Nathan this year in now winning 4 competitions in this years' events.
Although all the boys and girls want to be at the top of the table it is important to remember that your gamesmanship, your attitude to the game and opponents is as important in where you finish in the table.
Stick in and most importantly always enjoy playing.
Results from today
Boys
Winner – Brandon Nicoll – Angus
R/Up -  Kieran Simpson – Angus
Semi Finalists – Nathan Girvan – Angus, Samuel Vargovsky – Central

Girls
Winner – Chloe O'Brien – Blairgowrie
R/Up – Sophie McKinlay – Glasgow

 

Winners - Brandon Nicoll- Angus
Chloe O'Brien- Blairgowrie
R/Up's - Kieran Simpson - Angus
Sophie McKinlay - Glasgow
Boys Drawsheet/Results
Girls Drawsheet/Results

 

Blairgowrie Youth Open 2017

Well done to everyone involved in the 1st Blairgowrie Youth Open. The Blairgowrie Youth Academy Coaches and friends did themselves proud and had a great setup for the Youths today.
Some great darts were thrown today again with high out shots and some close games. No-one has an easy match these days at the youth events. We had 35 boys and 9 girls along to try and be the 1st every winner of the Blairgowrie Youth Open. The boys title eventually going to Kieran Simpson (Angus) who beat Dean Fitch (Glasgow) 5 -4 in a fantastic final – this was a great thriller especially for the boys competing in their 1st GrandPrix final –The girls competition was won by an in form Kara Sutherland (Highland). Kara beat her fellow Highlands Academy player Abigail Duncan 3-0 in the final of the girls. Kara went through the competition without dropping a leg.

Boys semi-finals
Dean Fitch (21.50) 4 v 2 (20.11) Samuel Vargovsky
Aaron Douglas (22.36) 1 v 4 (23.12) Kieran Simpson
Boys final
Dean Fitch (23.94) 4 v 5 (24.71) Kieran Simpson
Girls semi-finals
Sophie McKinlay 1 v 3 Abigail Duncan
Kara Sutherland 3 v 0 Sammie Campbell
Girls final
Abigail Duncan (11.32) 0 v 3 (15.18) Kara Sutherland

 

Winners - Kieran Simpson - Angus
Kara Sutherland - Wick
R/Up's - Dean Fitch - Glasgow
Abigail Duncan - Wick
Boys Drawsheet/Results
Girls Drawsheet/Results

 

Winmau Scottish Youth National Singles 2017

Forty-seven of Scotland's brightest hopes attended the Winmau Scottish Youth National Singles at Glenrothes last weekend and the standard of darts was incredible as  proven in a first round match when Dean Fitch from the Glasgow Academy started with two 12 darters and went on to win 3 nil with a 34.16 average.

The final was eventually contested between two of the current Scottish Youth Internationalists, Brandon Nicoll and John Gallazzi, not long back from representing Scotland in the Europe Cup Youth tournament in Sweden, who both play in the Angus Youth Academy

Brandon won the final 4-1 after playing some great darts all day, in fact he only lost one leg during all his matches.  The semi-finalists were Kyle Walker (Angus) and Jack Watson (Fife)

Wick teenager Kara Sutherland from the recently formed Caithness Youth Academy took the honours in the Girls tournament defeating another member of Scotland's Europe Cup team, Bobbie Smith, 3-0 in the final.  The semi-finalists were Emma Morrison (Ayrshire) and Chloe O'Brien (Blairgowrie).

Both champions, Brandon and Kara have now secured a place at the Winmau World Youth Championships which take place in Bridlington in Sepember whilst Brandon also takes the number one spot in the SDA Youth Grand Prix table.

Chloe O' Brien stays at number one in the Girls table and Kara's win moves her up to 4th place.

Also played in Glenrothes was a play-off for all players not previously qualified for the Winmau World Youth Championship and on the day after the 38 players had played down to two qualifiers we were left with Corey Brunton (Fife) and Kieran Simpson (Angus) who will now join all the other qualifiers on the trip to Bridlington.

 

Brandon Nicoll - Angus
Kara Sutherland - Highlands
Boys Drawsheet/Results
Girls Drawsheet/Results
Kieran Simpson - Angus
Corey Brunton - Fife
Drawsheet/Group 1
Drawsheet/Group 2
Scotland Youth Boys Team - Bronze Medalists in Team Event - Europe Cup Youth 2017

Well Done to Aaron Douglas, Brandon Nicoll, John Gallazzi and Nathan Girvan in winning the Bronze Medal in the Team Event - they played amazing during the event and had to dig deep showing great maturity for such young players - they also finished 4th Overall which was a fantastic achivement.

Scotland Youth Team - Europe Cup Youth 2017

Good luck to the Scotland Youth Team for the Europe Cup Youth event in Sweden - Bobbie Smith, Chloe O'Brien, Aaron Douglas, Brandon Nicoll, John Gallazzi and Nathan Girvan

Angus Youth Open 2017

Well another great day was had in Arbroath - great set up and a great buzz when you are up there. We had 36 boys and 9 girls talking part in the Youth Singles and Angus Academy added a doubles competition this year during the event. This was a great event and was great to see the team spirit between the players - some amazing games were played and Kyle Walker & Gary Steven came out top on the day.
The boys and girls then took to the boards again to play in the singles events. We again saw some new players attending this event and the age range was 9 - 17 in both the boys and the girls events.
Kyle carried on where he left off with the Doubles and before too long was on stage for his semi final against a fellow Angus Academy player - Kieran Simpson - this was only Kieran's 2nd Semi Final and what a fantastic show he put on against Kyle - for the other Semi Final we saw another 2 Angus players Nathan Girvan and Brandon Nicoll with Nathan winning through to the final.
It was certainly Kyle's day with a 5 - 1 win over Nathan in the Final.
The Girls event was again well attended and it was the on form players again who won their way through to the final - Chloe O'Brien taking part in her 5th Final of the season and Sophie at 10 taking part in her 4th Final of the season - 2017 is surely looking good for these two girls. Chloe came out on top this time round winning her 3rd title of the season.

Boys results
Winner - Kyle Walker - Angus
R/Up - Nathan Girvan - Angus
Semi Finalists - Brandon Nicoll & Kieran Simpson - Angus

Girls Results
WInner - Chloe O'Brien - Blairgowrie
R/Up - Sophie Mckinlay - Glasgow
Semi Finalists - Abigail Duncan & Sammie Campbell - Highlands

Looking forward to seeing everyone at the next event - which is on 5th August - Scottish National Singles. We also play the Winmau Qualifier after the Singles - this will see another 2 boys who have not already qualified get the change to play in the Winmau World Youth Masters in Bridlington on 25th September

Sharon

 

Chloe O'Brien - Blairgowrie
Kyle Walker - Angus

Kyle Walker & Gary Steven - Angus
 

Winmau Scottish Youth Open 2017

The Winmau Scottish Youth Open took place on Saturday in Glenrothes. We had 43 boys taking part in the boys competition. It was a closely fought competition with some excellent results. The standard of play gets better and better and is a joy to watch.
Was good to see some old faces back to again. It is really hard now to predict who is going to win each event now. The thing to remember is make sure you set your sights at the right level and don't be down hearted if it doesn't work out as you had hoped – just take all the positives out of your games.
Nathan started the day as the current holder of the title and fought his way through a tough field to the final to successfully defend the Winmau Scottish Youth Open.

In the Girls competition we were guaranteed a new Winmau Scottish Youth Open winner as all previous winners were either not at the event or have turned 18 and were too old to take part.
Last years winner was someone at the end of their Youth playing career and we went to the other extreme and we saw our youngest winner of the Winmau Scottish Youth Girls Open – Sophie McKinlay aged 10 has been knocking on the door over the last few competitions and she showed in her matches just what a class player she is turning into. With this win it gives Sophie entry into the Winmau World Youth event in Bridlington in September this year. I am sure she will be one to watch out for along with the other girls that have already qualified. It gives Scotland 6 girls and 4 boys who have now qualified to play in this event so far.

Well done to everyone

Boys Results
Nathan Girvan – Winner – Angus
Brandon Nicoll – R/Up – Angus
Semi Finalists – Aaron Douglas – Ayrshire & Jack Watson – Fife.

Girls Results
Sophie Mckinlay -Winner – Glasgow
Chloe O'Brien – R/Up – Blairgowrie
Semi Finalist – Bobbie Smith – Angus & Emma-mai Morrison - Ayrshire

Sharon

Nathan Girvan - Angus
Sophie McKinlay - Glasgow
Boys Drawsheet/Results
Girls Drawsheet/Results

WEST LOTHIAN YOUTH OPEN

Well another great comp was held yesterday in West Lothian - it was a smaller crowd than normal but that didn't affect the class and standard of darts that was shown - well done to everyone again - was great to see people progressing and Kara competing in her 1st Youth final and Kieran getting to his 1st Semi Final - you both didn really well and showing that you are able to compete at this level - keep it up and take confidence from this experience.

Unlucky to others who were disappointed in their performances - you will come back stronger and never take for granted the person that stands in front of you at the dart board - they have the same equipment (3 darts) same dreams and same hopes that they will win and will fight to accomplish their dream.
Yesterdays results saw Nathan Girvan retaining his title from last year and saw Chloe O'Brien take her 2nd Youth event in a row and sees her moving to 1st in the current Winmau Scottish Youth Tour.

Girls Results
Winner - Chloe O'Brien - Blairgowrie
R/Up - Kara Sutherland - Highland
Semi Finalists - Bobbie Smith - Angus and Sammie Campbell - Highlands

Boys Results
Winner - Nathan Girvan - Angus
R/Up - Kyle Walker - Angus
Semi Finalists - Kieran Simpson - Angus & Connor Todman - Lothian

Sharon

Nathan Girvan - Angus
Chloe O'Brien - Blairgowrie
Boys Drawsheet/Results
Girls Drawsheet/Results

FIFE YOUTH OPEN

Results from yesterdays Fife Youth Open - Well done to everyone and another great day of darts. There were ups and downs in some games and some were disappointed in the way they played - please remember to take the positives out of your games - and all were a credit to your Academies and families - it is great to see new players coming along and seeing how they get on.
It is always great to have a comp alongside an Adult event - the place was buzzing all day with Adults talking about different players and games they had watched - all in all they were impressed with the standard of Scottish Youth Darts - again well done everyone.

Boys
Winner -Brandon Nicoll - Angus
R/Up -Aaron Douglas - Ayrshire
Semi Finalists - Conor Allan - Fife and Nathan Girvan - Angus

Girls
Winner - Chloe O'Brien - Blairgowrie
R/Up - Sophie McKinlay - Glasgow
Semi Finalists - Bobbie Smith - Angus and Robyn Lennox - Ayrshire

Sharon

Brandon Nicoll - Angus
Chloe O'Brien - Blairgowrie
Boys Drawsheet/Results
Girls Drawsheet/Results
Europe Cup Youth

We are absolutely delighted to announce the Scotland Youth Team for the Europe Cup Youth event in Sweden on 12th – 16th July 2017.

It again was a really hard selection process with many players mentioned during the selection process.

SCOTLAND EUROPE CUP YOUTH TEAM 2017
Aaron Douglas - Ayrshire
Brandon Nicoll - Angus
John Gallazzii - Angus
Nathan Girvan - Angus
Bobbie Smith - Angus (New Cap)
Chloe O'Brien - Blairgowrie (New Cap)
Sharon Macfarlane - Team Manager
Huge Congratulations, good luck to all players - now the hard work begins because this is the start of the process - keep practicing and build on your skill and talent.

Aaron Douglas
Brandon Nicol
John Gallazzi
Nathan Girvan
Bobbie Smith
Chloe O'Brien

BDO British International 2017

Youth Team 2017

Winmau Scottish Youth Masters

Well done to everyone who attended the Winmau Scottish Youth Masters. A great turn out again with 47 boys and 12 girls competing.
It was great to see again some new players coming along and was good to see some of the young guns from Glasgow Academy talking part.
The age range of players this time was 9 to 17. It is incredible just how talented some of these kids are.
Angus Academy was well represented as usual and was great to see how willing they were to help get the competition under way – Alan, Steve, John you have great kids and a great team helping. The day all culminated in fantastic Semi Finals and Finals – again well done everyone.
The Results of the Winmau Scottish Youth Masters
Boys
Winner - Nathan Girvan – Angus
R/Up - Brandon Nicoll – Angus
Semi Finalists – Kyle Walker & Martin Lynch – Angus
Girls
Winner – Bobbie Smith – Angus
R/Up – Chloe O'Brien – Blairgowrie
Semi Finalists – Rebecca Graham - Angus & Kara Sutherland - Highlands

Nathan Girvan – Angus
Bobbie Smith – Angus
Brandon Nicoll – Angus
Chloe O'Brien – Blairgowrie
Boys Drawsheet/Results
Girls Drawsheet/Results

Winmau Scottish GrandPrix 1

Well what can I say - the Youth darts yesterday didn't disappoint. Some fantastic games were played and although some players lost their match they should take huge positives from them. Its hard when you are just starting out and play one of the top youth players - but when you get a leg or 2 off them you have had a great game. Was great to see some new faces again and the return of some of the players from last year. The boys event was competed by 46 boys and there were 10 girls again playing to win the Winmau Scottish GrandPrix 1 event. Lots of 180's scored and saw the 1st competitive 180 for Abigail Duncan in the girls event. This was very close in games and a couple of players had a flaky start but came back strong in the later stages. Results from Winmau Scottish GrandPrix 1
Boys
Winner - Kyle Walker - Angus
R/Up - Brandon Nicoll - Angus
Semi-Finalists - Aaron Douglas - Ayrshire & Nathan Girvan - Angus.
Girls
Winner - Bobbie Smith - Angus
R/Up - Sophie Mckinlay - Central
Semi Finalists - Sammie Campbell & Kara Sutherland both Highlands
Stick in everyone and look forward to seeing everyone at the
Winmau Scottish Youth Masters on Sunday 12th March in Arbroath.

Sharon

Winner - Kyle Walker - Angus

R/Up - Brandon Nicoll - Angus

Winner - Bobbie Smith - Angus

R/Up - Sophie Mckinlay - Central

Boys Drawsheet/Results
Girls Drawsheet/Results

Winmau Scottish Youth Invitational Matchplay 2017

Well what a fantastic day at the darts it was on Saturday - the top 16 boys and top 4 girls in Scottish Youth darts descended on the CISWO to fight it out to be the Winmau Scottish Youth Invitational Matchplay Champions.
The standard of players on show was amazing and was good to see everyone coming along so enthusiastic and put their all into every game. Scottish Youth Darts looks good now and for the future with the talent on show.
It is a fantastic format - players are seeded in the groups and then top 2 from each group progress into the knockout stages. Or in the Girls case the top 2 proceed to the Final.
Well done to everyone and especially to the eventual winners.
Boys
Winner - Nathan Girvan - Angus
R/Up - Brandon Nicoll - Angus
Semi Finalists - Aaron Douglas - Ayrshire
& Johnny Gallazzi - Angus
Girls
Winner - Erin McNeill - Fife
R/Up - Bobbie Smith - Angus
Sharon

Winner - Nathan Girvan - Angus
R/Up - Brandon Nicoll - Angus

Results

Boys Invitational Matchplay-Results

Girls Invitational Matchplay-Results

Winner - Erin McNeill - Fife
R/Up - Bobbie Smith - Angus

Central Youth Open 2017

This event was the 1st event of the season in the Winmau Scottish Youth Tour 2017.  Well done everyone - it was a great turn out - 49 boys and 10 girls took part this year. Hopefully it will be onwards and upwards for all the players and was good to see some new players coming along and all seemed to enjoy the day
Boys
Winner - Brandon Nicoll - Angus
R/up - Aaron Douglas - Ayrshire
Girls
Winner - Abigail Duncan - Highlands
R/Up - Rebecca Graham - Angus

thanks
Sharon

Brandon Nicoll - Angus
Abigail Duncan - Highlands
Boys Drawsheet/Results
Girls Drawsheet/Results
 
 

Scotland Youth Team for the British Internationals

Well - I am absolutely delighted to announce the Scotland Youth Team for the British Internationals in England on 24th – 26th March 2017.
It again has been a really hard selection process with many players mentioned during the selection process.
SCOTLAND YOUTH TEAM 2017
Huge Congratulations, good luck to all players - now the hard work begins because this is the start of the process - keep practicing and build on your skill and talent.
Sharon

Aaron Douglas - Ayrshire (New Cap)
Brandon Nicoll - Angus - (New Cap)
John Gallazzi - Angus
Nathan Girvan - Angus
Rebecca Graham - Angus
Erin McNeill - Fife (New Cap)
Sharon Macfarlane - Team Manager
Details

Category: Youth
Scottish Youth Darts

The Youth Setup within Scottish Darts has been supported by the SDA and is integrated in the main SDA banner.  This has been going for many years and the Scotland Youth Team took part in their first European Youth Cup in 1999 and have been their every year since then.  There is a Youth Director who is the go between the Youth Committee and the SDA Board of Directors.  This is an invaluable post which gives the Youth's a voice in Scottish Darts and also helps the Directors to support the Youth's within the setup.  This was evident when after the introduction of the 1st year of the Youth British Internationals in 2011 it was then integrated into BDO British Internationals with the Adult team and still continues today.

The Youth Committee along with the Youth Director are responsible for organising 7 events under the SDA Youth Banner.  At these events as in line with the BDO and WDF the youths are subject to random alcohol breath testing.  The Committee and Youth Director also give support to the Academy/Area competitions totalling 13 events throughout the year in various locations including Arbroath, Fife, Stirling, Ayrshire & Wick.  The Diary is available on the Links Below.  To take part in the 
These competitions make up the Winmau Scottish Youth Tour and culminates in a GrandPrix Table which goes towards the top 16 boys and 4 girls and 4 Future Stars of the table qualifying for the Winmau Scottish Youth Invitational Matchplay event.  It also goes towards the players selection for the National Youth Team.
Scottish Youth Darts Academies
We have the following Academies throughout the Country
Angus Darts Academy (Arbroath),  
Central Youth Academy (Cowie, Stirling), 
Grampian Youth Academy (Aberdeen), 
Glasgow Youth Academy
NADA (Irvine),  
Caithness Youth Academy
Thurso Youth Academy
Moray Youth Academy
Tay Valley Youth Academy

Each Academy looks to provide a safe environment to learn and enjoy the Sport.  They look at the Theory, Practical & Counting/numeracy aspects of the Sport.  They aim to assist the youths to become successful learners, confident individuals, responsible citizens and effective contributors in their lives.  They promote numeracy skills, literacy and team building through the sport and share the values of fairplay and sportsmanship.
As part of the Academy setup we have volunteer coaches that help the youths weekly.  These coaches are required to undergo a Disclosure check (PVG in Scotland).  Scottish Darts are registered with CRB Scotland and Sharon Macfarlane (Scottish Youth Director) is our main contact through them.  We also have a registered Child Protection Officer who is Cliff Murray (General Secretary) of Scottish Darts.
To take part in any of the Youth events then come along to the event and bring in a completed Winmau Scottish Youth GrandPrix Tour Form
Links
Competitions
Winmau SDA Youth Tour